🙂 All who follow the fashion industry, known as transient and short-lived fashion trends. It might seem like only yesterday they came in full force - and the spring-summer shows already dictate the new rules! Always and everywhere conform to the requirements of fashion - is not easy, but feasible. It is only necessary from season to season to keep track of any, even minor changes in trends. Especially that respected fashion designers reveal to us the mystery. Already today it is possible to predict the most relevant ideas that conquer the podiums of the season spring-summer 2017.
The main trends of the season spring-summer 2017
Summer Fashion 2017 will present us with many surprises. Although in general the designers follow the trends of previous years, they have made them the most "prominent" and even controversial - ball is ruled by gentleness and lace, contrasting color combinations and a huge variety of forms that fully meets the dynamics and variability of modern life.
In this fashion in 2017 more than ever characterized by integrity and harmony, which is particularly emphasized natural colors and soft, enveloping shape fabrics.
Among the major trends can be identified:
referring to the Victorian era with its feminine look, lace, ruffles and frills numerous;
popularization of ethnic patterns of different cultures and nationalities. As a rule, this trend is embodied in a great number of floral prints, covering the entire fabric flowers and leaves;
a variety of electric colors, geometric patterns, labels, catchy logos, transitions and spectacular mix of colors and prints for a kaleidoscope type.
The main stylistic direction in the spring and summer of 2017 is considered to be a cruise clothing style (resort-style), which provides:
accents on the back (which are often drawn up various notches as at Maison Margiela) or graceful female feet (with a cut to the thigh dress can be found in almost any summer collection);
wildest combinations of bands - clothing welcome mix of divergent lines and prints;
graphic prints with vivid, clearly defined blocks as in Michael Kors;
jumper, bomber or svitshot in shades of pastel colors - a real must have the new fashion of the year, we are told by Adam Lippes;
a plurality of creative free of folds disposed in unexpected ways that have already demonstrated Alexander Wang and Joseph Altuzarra;
a plurality of volumetric flounces even in heavy clothing made of leather or fabric of thick cloth that has been used successfully Toni Maticevski and DKNY;
subtle shades of pink combined with brown mustard and creamy blue that showed in their shows Narciso Rodriguez and Jason Wu;
abundance of flowers adorning garments, dresses, pants and even shoes.
Let's look at the most iconic trends Resort Collections 2017 more!
Trend №1: flower children
Floral print helped designers to decorate the already blooming spring and summer. Among the peaks of trends in 2017 can be noted as flower total look, as well as individual parts in the form of large pink buds, watercolor flowers and appliqués resembling children's drawings.
Flower romance swept all fashion segments - air dress flying skirts, suits, handbags, and shoes, creating the effect of a real spring mood. In a magical flower garden dominated as the subtle shades of pink and purple, and rich red, yellow, blue and green tones, which was successfully demonstrated at shows by Oscar de la Renta, Alice + Olivia, Dolce & Gabbana, Moschino, Etro and Marc Jacobs.
Trend №2: Belts
Stylish design solution, concluding any image, steel straps and belts. They pay attention to the slender female waist. In 2017, the zone has become the most popular wardrobe item. Wide and pointed frilly, they almost pushed off the podium narrow straps with buckles invisible, in some cases, taking the form of a corset-belts.
Among the most sought after material is patent leather and natural suede. Some designers have gone further than others, offering to wear a multiple contrasting belts, move them to the waist to the neck or back clasp buckle. By the way, the buckle itself has ceased to be a significant element, gaining more and more minimalist look - so say Calvin Klein, Ralph Lauren, Sonia Rykiel, Alexander McQueen and Missoni.
Trend №3: Bombers
Cropped bomber jacket, embroidered appliqués and decorated with all kinds of prints, became the undisputed must have in 2017. Without them, I could not do hardly any collection. Bombers dominated Toners not only Laksheri-houses such as Elie Saab, Anna Sui, Louis Vuitton, Emporio Armani, Fendi, Coach and Gucci, but also a democratic brand Zara.
This jacket is so versatile that it can be combined with anything - from air dresses to the floor to pants and jeans. In this case, the bombers are a sample of the personalized article of clothing, because such a bright jacket, decorated fancy embroidery, prints, logos and icons, it is able to demonstrate to the world the character of its owner. The trend delicate satin model knitted variations presented in the minimalist bows, and even leather bomber-to-date military style.
Trend №4: Military
It looks like clothes in the style of military firmly taken the fashion Olympus. Military has become a popular casual style in the late '60s, when designers are tired of decorative bows and turned for inspiration to the strict military uniform. However, in 2017 this trend was a new reading, having joined in the operation of fashion trends in a completely new role.
Of course, the main features of military-style remained without any changes - on jackets and coats overcoats type, a large number of pockets and camouflage colors have not gone away. However, the spring-summer collection added a little brightness in the traditionally masculine type of clothing. Allowed not only swamp shades, but light colors Khaki, Camel and many colored stripes, flowers and fringe.
Especially attractive military-look jacket, combined with mini-skirts and shorts, further emphasizing the fragile female figure. Inspiration gleaned in uniform, best expressed collections Antonio Marras, Dior, Valentino, Dolce & Gabbana, Rachel Zoe and Chanel.
Trend №5: flared
2017 was a year of sudden "comeback." It is rich in the long forgotten trends that unexpectedly returned to the fashion catwalks. Among them is, and broke out with renewed vigor fashion bell-bottomed trousers. Of course, on the reanimated designers flared impossible to label «old school». It did not find excessive expansion inherent to the 70s, and overly flashy decor in the form of fringes or stripes.
Fashionable trousers 2017 have a shorter length and a slight extension of the knee. Inter-seasonal collections from Versace, Cinq a Sept, Calvin Klein, Marco de Vincenzo, Sonia Rykiel, Alexander McQueen and Rosetta Getty presented fashionistas bell-bottomed trousers minimalist design, made mostly in black and white color scheme. Exceptions are floral suits in white and burgundy throw combination by Cinq a Sept.
Trend №6: Sleeve-bells
Sleeve-bells were a sign the trend 70, when on the runways and dominated boho ethno-style. Recent decades did without this pretentious, but perceptible element of decor - designers recognized that the trend has run its course. And in 2017 flared sleeves steel chip sets fashion collections, loud experiencing the birth of another.
Designers fashion houses Alexander Wang, Fendi, Joseph Altuzarra, Roberto Cavalli and Holly Fulton tried all versions of the sleeve - from accurate cutting with light flounces to overly broad forms. Especially brightly this solution looks elegant blouses and dresses, rebuffed from air textures and adorned with a stylized ethnic embroidery.
Trend №7: dusty rose color
Shade of dusty rose became one of the trendy colors Resort collection. This gentle, infinitely feminine and elegant color, like no other, in harmony with the ease of spring days. Delpozo, Bally and Roksanda decided to use the maximum potential of this girlish tone, rebuffing him from almost any clothing - podiums filled with pink dresses, suits, light coats and jumpers.
Trend №8: Logomaniya
In the high fashion segment broke logomaniyu trend, which for several years was not just a sign of lack of style, but even bad taste. We were the first on the path of revival of this trend Kenzo, to put the logo of the fashion house a collection svitshotov. Gradually joined them and a youth brands, decided to exploit in the collections of street aesthetics, truly loved by fans street-style.
A clear interest in trends late '90s led to logomanii new shows by Missoni, Christian Dior and DKNY, who decided to bet on archival stuff. Dominant trend in 2017 was the use of their own logos, catchy placed in the most prominent place dresses, shirts or sweaters, like Gucci, Chanel, Moschino, No.21 or DKNY.
Trend №9: Red + White + Blue
The colors of the French tricolor, considered one of the most win-win combination of summer and send us back to the Sea ageless style. In the season of spring-summer 2017 harmony of red, white and blue was back on the crest of the fashion wave. Designers use this kolorblok in everything - from handbags and shoes to dresses, sweaters and suits.
These things are quite self-sufficient, therefore, did not require any additional frills in the form of jewelry or flashy accessories - so say Gabriela Hearst, Donna Karan, Sass + Bide, Valentino, Sonia Rykiel, AF Vandevorst, Antonio Marras and Osman. The basic rule - well-chosen colors. So, cool shades of red prefer proximity to the cobalt and light blue and warm require proximity to the blue-violet.
Trend № 10: Print Striped
It seems that the modern fashion has spent the entire stock of original prints, forcing designers to turn to classic strip. Such experiments presented great many - different bands of color, width and orientation on the canvas. The trend of both longitudinal and transverse line, monochrome and all shades of the widest range of colors.
One of the most significant trends in 2017 become diagonally arranged strips and mix of divergent lines, as well as classic flat strips arranged so as to visually draw the shape. This trend is widely represented in displays of Christian Siriano, MSGM, Milly, Alberta Ferretti, Edun and Adam Lippes.
Trend №11: Multilevel Dresses
In parallel with the masculine military designers have presented a completely opposite trend. Feminine ruffles, frills and numerous exquisite lace become the undisputed leader in the segment of dresses and skirts. Dresses from Giamba, Prabal Gurung, Gucci, Kate Spade New York, Burberry, Sachin & Babi, Moschino and Zac Posen resemble not the usual garments and tiered cakes, referring us to the days of the Victorian era, but it is possible to modernize the interpretation of this trend.
Fashion 2017 photo in women's clothing spring-summer jacket
In the middle zone of Russia is no clear transition from winter to spring. Almost three months the weather is changing every day: last night there was snow in the morning the sun is shining, the day strong wind. The coats and coats do not want to wrap up, but from the good-quality jacket is best not to give up. It is the most versatile article of clothing, it is convenient to travel in your own car or public transport. Jacket combines equally well with pants and skirts. On it in rainy weather does not stay dirty footprints from puddles, as it usually happens with a cloak. With the jacket easily change the proportions of the figure, be adjusted to accents. In short, in the spring and summer of 2017 without a beautiful jacket can not do.
bombers
Popular model of jackets in the spring 2017 will be the bombers. Vomber jacket were originally part of the top clothing US Air Force pilots. It is characterized by knitted cuffs on the sleeves and waist. This jacket has a lining-bomber orange or bright yellow. When it is still used for its intended purpose, the underside of a bright helped catapulted the pilot does not get lost in the background of the earth. He wrenched his jacket, and a search helicopter could see it from a height. Even now, the bombers are two-sided: they sew so that the item was worn on both sides.
Women bombers are more suited to the sporty style. The classical model has external pockets, often decorated with fur. Quilted jacket suitable for the off-season, when the weather is not stable, and the temperature jumps throughout the day. It has no hood, so it is ideally suited hats sports type. Bombers often emphasize the affiliation to a particular sports team, indicate the commitment of the mistress a certain style of music. Best of all jacket-bomber look with jeans of any style or knitted cuffs on pants and sneakers.
Anorak
Anorak or jacket, comfortable and practical jacket made of waterproof fabric, also could be seen on the catwalks of the world. Initially, this type of outer clothing was a mandatory attribute of ammunition climbers and people leading sport lifestyle. Normally it has a two-way clasp that allows to wear a jacket over his head. The fabric is impregnated with moisture repellent agent, so the thing is practically waterproof. Wide sleeves allow full freedom of movement. Straight cut jacket makes dimensionless, allowing to hide the true size. In some models, detachable sleeves, anorak and used as a vest. Sports style is not a reason to abandon the bright colors, which makes the jacket a stylish and attractive. It is the culmination of sports style, spring is worn with jeans and trousers, and in the summer - with shorts. The indispensable thing for vigorous active girls.
Jacket-vest
Jacket-vest is a favorite thing of many girls in the off-season (photo 3). It is able to protect against small frost, and at the same time will not be hot in it if suddenly through the leaden clouds look out the March sun. Unstable spring weather is very dangerous. The contrast between the morning and daytime temperatures is already evident, so often people go unbuttoned, not paying attention to the treacherous breezes. The sleeveless jacket, it is excluded. It perfectly adjusts the heat. Depending on the weather it is worn with a wool sweater or knit turtleneck. It looks equally well with pants and skirts.
Cropped leather jacket
Cropped leather jackets are a real hit of the season 2017. They have been actively exploited by American women after World War II, when the winners from the front back. Experiencing a deficit, but without losing the desire to look fashionable and beautiful women leather jacket to alter the taste. Short jacket to the waist fits all, regardless of body type. It was also noted that this style is able to visually mark the waist and make the top of the figure more petite. In addition, the black leather has become a fetish, and shortly cropped leather jackets have become popular throughout the world. The woman did not look like they masculinity. Luxurious leather jacket combined with skirts as short as well as long and free. Short skirts are usually complemented by high boots or trendy spring 2017 boots, stockings. Slender girls can afford to wear skinny pants, but they emphasize the flaws (breeches, full legs), if any.
leather jackets
Leather jackets - a classic leather jackets, relevant for the job. In the season of 2017 are popular models lengthened to mid-thigh, a few free cut, as if taken from the man's shoulder. The image is somewhat sloppy, so do not get involved in lots of accessories. You can add an image tuft of hair on top or slightly disheveled styling for short hair. In contrast to the male models, female leather jackets have different decoration: paste, stripes, unusual buttons. This allows you to wear the thing is not only to work but also to the party, picking up an original dress. To fit leather jacket massive metal jewelry, as well as popular this season on a high platform shoes and thick sole.
jackets oversayz
Jackets oversayz included in vogue in the 2016 season, continue to remain at the top of popularity. Although such outerwear is highly controversial and considered by many men antisexual. Style oversayz was taken over from the poor neighborhoods of New York City, where many girls for the lack of funds to continue wearing clothes for their fathers and older brothers. Clothing with someone else's shoulder gradually became a symbol of bohemian and creativity. Despite the fact that the thing is a figure more than free, it adds unnecessary volume changes and proportions are not always in the right direction. Especially contraindicated jackets oversayz full ladies that will only aggravate the situation with the weight. They are very slender and fragile girls emphasize their subtlety and ephemeral. When properly selected accessories they will look stylish, but it is quite difficult to achieve. There is nothing funnier than thin legs against the huge over-sized jacket. Wear oversayz may only person with a delicate taste and sense of style.
fur jackets
Fur jackets are usually made of faux fur, so they are not as warm, in order to protect from frost. But they are an alternative demi jackets. They are in February and March, when winter still makes itself felt, but retreating. Modern methods allow staining to create models that mimic the skins of wild animals. There fur jacket with a graphic pattern, monochromatic, gradient color. A variety of styles makes this object desirable for any fashionista's wardrobe. Jackets from fur combined with a skirt above the knee accentuate slim figure, the model with the trousers reflect the sporty style, with a pencil skirt would be appropriate in a school or university. There are combined models with leather sleeves, but they are more suitable for the European spring.
denim
Denim never goes out of fashion, but in spring and autumn 2017 it will be especially popular. This cotton fabric originally used by the workers of hot shops. They did not sweat the body, and do not appear frayed. After the sexual revolution of the late '60s in jeans jacket and donned women finally equalize women's and men's fashion. Nowadays women denim jackets are diverse styles and colors. They are decorated with fur, sequins, embroidered thread. Classic jacket, virtually indistinguishable from those of men, combined with jeans of the same color or black trousers. Shortened model suited to a long chiffon dress, a form-fitting model - a skirt or mini-pencil. Wearing a denim jacket is best when finally established warm weather, because they do not protect neither from the cold nor the heat. Denim is versatile and practical. It is combined with both the skin and lace, easy to wash and almost no wear.
Jacket in a cage
In addition to the monochrome models in spring 2017 will be popular cell. It was a trend even in the winter, but for the cold period was characterized by pretentiousness and diversity of colors. Spring cage became calm and balanced. Wearing a jacket, no one will not flicker in his eyes. The cell is combined with monotonous wardrobe, such as a skirt or trousers of a similar color. Do not wear two things in the cage, it was in the trend in 2016, but now out of fashion.
Jackets in pastel shades
If you are tired of the medley and flashy colors, this spring, come to the aid of pastel shades. Beige, ivory, champagne - they give a sense of spring and freshness. They seemed to indicate the awakening of nature and start a new life. Pastel shades will suit girls spring and autumn tsvetotip, they can wear these jackets with light-colored trousers and skirts. A spokeswoman cold tsvetotipa not to look pale, you need to dilute gentle tone vivid detail, for example, black pants and a red skirt. Be sure to Tie a bright scarf, or warm colors come into discord with the natural "cold" beauty.
plain jacket
Spring and summer are popular not only plain jacket. On the catwalks you can see the models that combine vibrant colors 2-3. They are in perfect harmony with each other, give the image of dynamism and brightness. Vertical inserts help to correct a figure slightly extended silhouette. Models with different color sleeves, fit undersized stocky girls, because doing torso longer and thinner. In short, any fashionista spring and summer of 2017 finds his jacket to taste.
Fashion 2017 photo in women's clothing for spring and summer full of women and girls
A chic image of a lush ladies always excited artists and contemporary stylists. Temporarily imposed image of emaciated girls now gradually giving way to harmony and beauty of the flowing lines of the female figure. Increasingly, designers and stylists are beginning to pay attention to women with a curvy shape. Current fashion for larger women for summer 2017 includes many bold innovative solutions. It's bright colors, form-fitting styles, flowing fabrics and more.
Fashion for spring and summer of 2017 for the full women attracted to the fact that it contains a large number of new products, photos of which can be seen on this page. This will allow to think of ways its image and create a basic wardrobe without rush and hassle. All bright trends and the latest trends for spring-summer fit perfectly in everyday and business style, it gives a light shade of romance and perfectly underline the dignity of the figure.
One need only observe some rules that are described in this article. In the meantime, take a look at news photos, better than any words indicating the attractiveness and aesthetics of magnificent forms:
Where to begin drawing up a basic wardrobe?
Where to begin preliminary preparation of the base for a complete wardrobe girl or woman for the upcoming spring and summer? Of course, with the elaboration of the future image. To do this, carefully examine all of their advantages and disadvantages. You should also come up with - how and where we would like to look like. What are the things needed for this. But the next step - detailed audit susche6stvuyuschih things in the wardrobe. Each of them should be assessed for suitability of use in the warm season in the future. All extra costs set aside.
In particular, in 2017 the stylists working on fashion for larger women, I recommend unequivocally renounce the following things:
whose size is greater than you;
prevailing colors - dark and gloomy;
There are decorations in the form of brilliant sparkles and rhinestones;
with flounces, ruffles, decorative inserts, wide belts;
shapeless in cut styles, as well as too tight.
Leave should only be those things that have a simple, classic cut, plain and did not appear in the figure as a hoodie.
After work, you are ready to study and understanding of the recommendations of stylists in fashion trends. It is about them and Pohorje on. And yet another piece of stylish everyday onions, which offers fashion for a full-on spring and summer:
Current trends: styles and colors, prints and accessories
Current trends in fashion full 2017 includes many exclusive designs. All of them are intended to visually pull the silhouette and give it a compositional restraint. This is achieved due to the decrease in visual and given flying harmony. Let us examine the most popular styles and colors used prints and additional accessories. With the recent emphasis placed bright, distracting attention from the problematic parts of the body.
We begin with the basic styles of individual elements of the wardrobe. The skirt should be mandatory in the arsenal of every fashionable woman, regardless of the kind of its professional activity and body weight. The most popular types of cut - year, pencil, straight from the classic darts. With their help, by the way, you can "plant" a model of the figure so that it will visually reduce the volume.
Incoming fashionable bottoms available in a wide variety. Flared skirt from the hip to hide the heaviness of the line of the thigh. But it is necessary to select the most fitting top. This shirt can be made of thick fabric, well keep in shape, or of a thin turtleneck silk jersey. But with the pencil skirt fashion for larger women in the summer of 2017 it recommends combining flying tunics, flowing tops with the cutting line on the 10 - 15 cm below the waist line.
Choose only expensive natural fabrics. It's slim girl untidy header from synthetics will appear as an element of slight negligence. For lush ladies best option would be a matte satin and natural Chinese silk. To cool weather recommended to choose jackets and blazers of fine and dense knitted jackets cashmere and thin suit fabrics.
They perfectly match this season with all kinds of skirts.
Returning to the subject of trousers, it is also worth noting the presence of klesa in all its forms and types. This may be an extension of the knee and hip. And everything depends on the facial features of the female figure. At sufficiently slender hips, you can choose a more classic version klesa trousers from the hip line. With it the perfect accompaniment snow-white cotton shirt or a cashmere sweater with a high neck. But for women with a curvy hips fit expansion trousers from the waist or hips. With such shaped top must be moderately fitting. Lightweight blazer or jacket with Basques will create the impression of fragility and lightness of forms.
The fashion for the full spring and summer of 2017 there is a great variety of different capes, sleeveless coats, boleros and ponchos. All of them are designed to provide an internal emotional comfort. It is therefore advantageous to use the cloak of transparent chiffon, lace summer coat and plain ponchos for the cool weather. It is not necessary to wrap up in these things ka in a cocoon. Believe that and translucent texture they perfectly do the job - will create the maximum emotional comfort.
When considering colors and prints, we see at once that the second plan depart all dark and dull colors.
Favorite of the season - a white and a palette of pastel colors. Do not be afraid to wear a white skirt and a shirt. When properly selected they are a cut to visually reduce the volume. White shirt should be tailored so that clearly fastener strip was visible with bright contrasting buttons. Also welcome vertical tucks, darts and more. White skirt should be a classic pencil, possibly with slots or slits.
Popular color peach and lavender shades. They can surprisingly be present as a cardigan and blouses and skirts and trousers. When choosing jeans should give preference to classic tailoring with a high waistline. It can be combined with a silk top, plaid shirts and knitted sweaters.
Drawings and prints take some bizarre form. This blurred vertical stripes, large flowers, birds, exotic African motives in ethnic style. They are used in sundresses, sarongs, summer suits.
Basic wardrobe according to the fashion for complete for spring-summer 2017
Basic wardrobe - a relatively new trend is to reduce the time and always have on hand ready images for different occasions. In accordance with the fashion for complete for spring-summer 2017 it includes some capsules, perfectly combined with each other.
Let's start with the traditional image of the business. For its layout needed blouses, sweaters, skirts and pants. In the current season will be made to complement this way of accessories such as silk scarves, ties and textile necklace. Blouses traditional pastel shades. Skirts and trousers can be dark, and the summer - white or beige. Will be a great addition vests, including elongated sleeveless draped from easy materials
Special attention should dress. However, there should be at least 3: sundress, elegant business and evening. This is the minimum amount. Dress should have a long "to the floor" is visually stretches the image. Supplement it should be light sandals or barefoot. The color scheme - a pastel blue or sea. Business dress made of natural silk or thick cotton can be performed in military style.
Similar styles with plenty of overhead components successfully pull the body and reduce its volume. Another valid option - drapes with the vertical direction. Here, in the knitwear may be selected as the base material. Evening dresses version in the current season - a flowing chiffon or satin matt with knee-length wrap-around shapes and permissible cut. The combination with classic boats at the hairpin allows to always look attractive to the opposite sex.
Shorts and bermudas are the basic foundation for everyday urban style clothes full of girls and women.
This season, they can be linen, satin, cotton and denim. Length - above the knee line 10 cm They should not be tight-fitting.. But also to choose the model to 2 sizes too big, too, it is not recommended.
Sports style consists mainly of T-shirts and leggings. The exception is the classic tracksuit for Bole cool weather. Here it is worth paying attention to the fact that the sport trousers with fashionable today cuffs on the bottom are not suitable for a woman with a curvy shape. In this case, you should give preference to classic straight cut of a sufficient length. But the T-shirt, contrary to the written above, should be 2 sizes larger than required. The same rule applies to the shirts alcoholics.
Leggings and breeches choose from a stretch fabric that is not only good stretch, but also support form. They are perfectly combined with long shirts and T-shirts in white and pastel shades. Hide excess volume in the abdominal area will help a large graphic print on the front.
As for outerwear in the spring of 2017, the fashion for larger women recommended to opt for a leather jacket or a windbreaker made of thick plaschevki. Also in the trend would coats with a wide belt, sewn in military style. Coat with the A-shaped silhouette with a length just below the knee in skorochteniya with boots on a small heel give slimness. Notice the variety of trench coats, which due to the severity of the cut will help to avoid the impression of vagueness forms.
Fashion 2017 photo in women's clothing spring-summer who are over 40-50 years
Women over 40 years is increasingly attracting the classic clothing. Advantageously presents their looks austere and elegant cut items in the wardrobe. The lady at this age already found her, she is feminine and charming. If a young girl can afford to carelessness and a certain strangeness in clothing, for the 40-year-old woman is unacceptable. The most suitable for her image - which successfully combines chic and conservative. She can choose any direction in fashion - retro, vintage or Provence.
Fashion 2017 for women after 40
In 2017 women fashion presents a wealth of product choice - they hit moderate courage and extraordinary democratic. Models of clothes for the summer season are light and comfortable, they are characterized by efficient, attractive colors - any woman can find the right shade for your wardrobe.
Among the main characteristics of the style of 2017 - a fashionable and very feminine maxi length. The sale has already received an exquisite summer skirts, tunics, dresses. For women over 40 years of women's clothing manufacturers offer fashion collections - clothes of different colors and styles. They will make the image of women stylish and unique, allowing it to acquire ease and confidence. You can safely go on a search for a suitable wardrobe itself.
Rules of choice of clothing for women after 40
Every woman, regardless of age, have the desire to look younger than their years. After all, to attract admiring glances from men always nice. With the help of her wardrobe can become younger by several years. Stick to these rules when choosing clothes:
Emphasize the dignity of the figure. If you have a thin waist, always demonstrates her, correctly picking up skirts and dresses. Proper tailoring of clothes, accessories, appropriate belt to help you cope with this task - so you aktsentiruete attention to the waist and rounded hips. Women over 40 should be abandoned by the mini skirts, stockings fishnet and deep neckline. If you have beautiful breasts, choose clothes that accentuate her favorably, but not bare.
Light shades - your choice. Dark colors are always added to the age, if your goal - to visually take years, then your wardrobe must prevail clothes breast, beige, pale pink palette. These shades will refresh your skin and erase those extra years with the person.
Light the youthfulness of the skin with the help of games of shades and colors in clothes. Buy some fashionable and colorful scarves and bright collar. It is necessary to suit your skin tsvetotipu. It is these accessories will make your face more expressive and young. If you like dark clothes, and you do not want to give up their image, created in his image of a balance of dark and light shades, using accessories, shoes, and other details in the clothes.
Prints and drawings on things. Ladies after 40 years should choose clothes - dresses, blouses, skirts neyarkimi, inconspicuous and small drawings. Fit them monochrome clothes completely without a pattern. Discard the product with large prints - they add age lady.
What style should be avoided in the clothes of 40-year-old
Children grew up, career rises, you might even delight the grandchildren, and the age of relentlessly ran on numbers 40. When choosing clothes middle-aged women admit typical mistakes, among them:
choose long skirts and dresses dark palette for each day - give up on them, so as not to look like a lady aged in shapeless clothes;
carry big bags - they are usually associated with a string bag for trips to the market. If you do not want to add on the date of his birth ten years, do not stop the choice on this accessory. Buy elegant small handbag size of the book;
Shoes without heels - shoes, boots, ballet flats - it's not your prerogative. To walk was easy and beautiful posture, look for boots, shoes or sandals with heels;
shapeless things that hang on you like a hoodie. This jackets, skirts, blouses that will make you invisible gray mouse - forget about them;
coats - it's not about beautiful, fashionable, slim line cloaks and coats, and for that a formless outer garment worn by women pensioners. Throw them with your wardrobe, if you will not become prematurely so;
negligence in clothes and young people up - this is one more extreme for women after 40, when they clothe the youth thing and think that because they look younger. But it is not so - your age will be even more emphasized by inappropriate wardrobe;
a lot of jewelry - just a few years can add massive gold jewelry and a large number of them in a single image.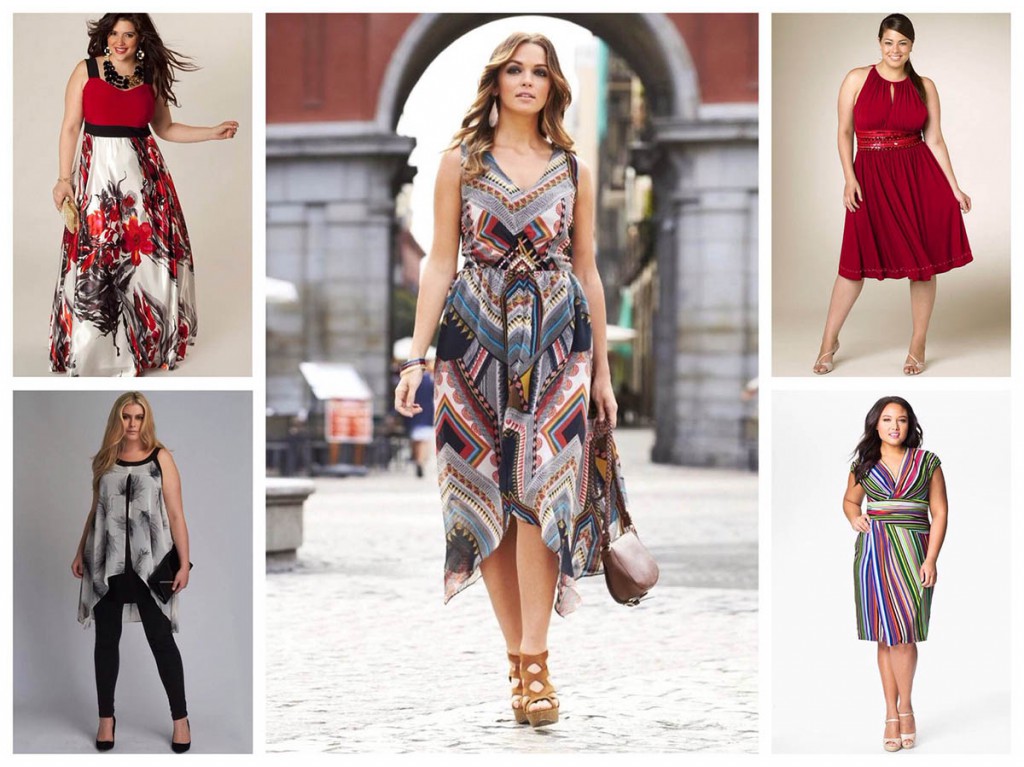 Trendy fashions for those over 40: Dresses and skirts
At any age you want to remain attractive and young. Only in your hands the choice of an appropriate style and your beauty. For middle-aged women necessarily need to have a wardrobe of dresses. In the spring and summer of 2017 will remain popular, elegant dresses in various colors and styles, midi and maxi lengths, emphasizes the benefit figure. Modern boutique you will find a dress in a cage, with fashionable ruffles, with long and short sleeves. Create a stylish dress using bows for office and romantic, solemn images for publication.
It looks beautiful and fashionable woman in 40 years - is quite real. To her wardrobe a lot of clothing options available. Particular attention should be paid to the skirt. To different life situations should choose the perfect model. For everyday business image remains indispensable classic straight skirt or "pencil". Relevant medium length pleated skirts and long skirts to the floor - they can be self-colored or with a small figure.
Pants - irreplaceable thing in the wardrobe of fashionable women
Stylish looking 40-year-old woman in classical trousers. It is ideal for business clothes and image, and for everyday. Pants complement the fashionable coats, jackets, tops or blouses. The main thing is to choose clothes according to color and style. At work, you can choose a pants-bananas or tapering pants styles. In a fashion - shortened model. Pants with arrows or without - is to choose only you. In 2017, fashion allows you a great deal.
Of course, in a woman's wardrobe essential jeans - uncluttered and pretentiousness. They must be prints and ornaments of youth. You fit jeans in dark blue, light blue, the traditional blue colors. Depending on the state of the figure, you can choose a free or skinny, but remember that too tight jeans on a woman after 40 years look vulgar. Wear jeans you can on the road, a walk and even in the office to work - if it does not prohibit the dress code.
Knacks in female form
Among clothes fashionistas should have several blouses - beautiful, stylish and seductive. Fashion designers recommend to middle-aged women to wear blouses. In the fashion in 2017 are blouses of silk, calico, chiffon, linen with puffed sleeves. Another trend of the season - a blouse with a collar in the form of a bow, made of chiffon.
Restrained and stylish tops, shirts, T-shirts - irreplaceable clothing for women. It is useful in all situations. Complement of the upper part of the wardrobe - suitable jacket or jacket. Do not forget about accessories and jewelry - everything should be in moderation.
Fashion 2017 photo in women's clothing spring-summer street
Unique street style - images confidently demonstrate: in the choice of clothes a French guided by the principle of practicality and comfort. Carefully follow the fashion, they do not seek to combine into a single image multiple trends, and Fashion Week in Paris, Spring-Summer 2017 - vivid proof. An important point: if you do not know what to wear, take the example of the fashionistas of Paris and choose black. Monochrome image - always a winning solution.
Fashion 2017 photo in women's clothing spring-summer shoes
What kind of shoes we offer designers for spring-summer 2017? Mylitta decided to help all the girls to understand this delicate matter. First of all, designers please us with a variety of models, with bright and vivid colors, complex and multi-level decor.
Women's Shoes Spring-Summer 2017 fashion trends and
Considering the new collections of famous designers, first of all, it should be noted that many of the girls on the catwalk model walking freely and easily, even in the dress with a train, because their feet were flat shoes.
A huge variety of shoes without heels and even backless, among which the bright and comfortable shlopki Grandma, enabling you to relax and move without fear of tripping. It is the first of the major fashion trends in shoes spring-summer season 2017.
Pictured above - Zac Posen, David Koma
photo below - Hermes, Carolina Herrera
Very high platform. Especially girls raised high Miu Miu, Erdem, Gucci, Gareth Pugh, Rochas, Sacai, and above all - Marc Jacobs. But on the podium girls went without any problems, though, looking at the shoes with a huge platform, wonder - is it possible? If you want to be always on top, look for these models.
Balmain, by Elie of Saab
Erdem, by Gareth Pugh
of Gucci, by Marc Jacobs
Mules, shoes with heels of different heights, but without backs, the upcoming spring and summer are among the most popular models, however, mules better to wear when you're not in a hurry.
Celine, by Charlotte Olympia
Dolce & Gabbana, Nina Ricci
Another actual detail that clearly aspires to it entered the fashion trends in 2017. This shoes with transparent elements.
Aigner, by Elie of Saab
Genny, Miu Miu
In the new season it appeared that glitters and shines not only silver and gold. In many collections of shoes lit up in neon colors and bright, rich colors. Designers pay attention to unusual shades, were many.
Trussardi
As always, the creators of the shoe in a hurry to share their ideas on the subject of fantastic heels or at least unusual.
Studios acne, Dolce & Gabbana
Issey Miyake, by Simone Rocha
But in addition to heels, there are simply unusual shoes in which designers offer to reunite into one sneakers and boots, socks and shoes, leggings, and boots, and much, much more.
Fendi, by Gareth Pugh
of Fausto the Puglisi, Sophia Webster
The shoe collection is very clearly seen a line of aggressive and even daring footwear. These are the main fashion trends of 2017.
And now look at some of them in more detail.
Fashion shoes spring-summer 2017 - ankle boots
Spring - a time for ankle. They are still in fashion, unusual, beautiful, spectacular. There could be put an end, in fact, and so everything is clear, that the boots, in addition to beauty, it is very convenient. But, if you look at the collection of Alexander McQueen, Burberry, delight the imagination of designers would be no limit.
McQueen alexander
Burberry, the John Richmond
Women's shoes and boots 2017
Despite the departure of winter, on the podium you could see the original models of boots and boots. The collection Balenciaga, they are clearly the nature of the spring, so that you can safely purchase boots and boots, stockings. Bright boots, stockings, tights or rather passing in shoes or boots - the most vivid and memorable version of the shoe for spring.
In the new season boots, sneakers will create the possibility to walk on a fast course, engage in certain sports, outings and commit to his beloved cottage.
Despite the expected spring warmth, boots on a high platform, like Gareth Pugh, or thick tractor sole, as in Versus, does not prevent, but rather to create many fashionable women in the military style or a chic grunge look.
Balenciaga
by Marco de of Vincenzo, the Versus, the Moschino
Fashion shoes spring-summer 2017 - Shoes
Yes, first there is a spring, and then summer, so shoes or boots to go low will be useful. A very original way of offering designers Alexander McQueen - Dress, from fine lace combined with black leather jacket and boots aggressive, like many women of fashion.
Lightweight chiffon competes with a massive shoe collection Coach and Fausto Puglisi. And this is not an isolated case. Designers who with shoes attached to the girls so cocky way, quite a lot.
Burberry, Alexander McQueen
of Fausto the Puglisi, the Versus
Women's shoes in the spring and summer 2017
Shoes should be bought now, since it is expected a speedy warming, therefore, on the basis of their submissions, select models are more or less closed. The last can be worn in cold weather, these models at the show was a lot. The form of some models is a massive heavy shoes with thick heels and platforms.
Koma david, of Gucci
Hermes, the Maison Margiela
Classic boats meet, but many designers try to surprise more than something original and unusual or complicated, so in many models of boats decorated with eye-catching decorations. Especially noble without losing their dignity, get the boat in the collection of Jeremy Scott.
Nakashima Atsushi, by Charlotte Olympia
Jeremy Scott
Low-heeled shoes . This model proved to be quite popular, they will no doubt please the practicality, versatility and convenience.
Marni has, Mugler
Pringle of Scotland, Tods
Style oversayz where large size clothes, if not "from your shoulder", calls for a more elegant shoes to balance large volumes and point out that you still feminine and elegant.
Socks with shoes or even sandals continue to be implemented into our shoe wardrobe. Therefore, buying a new pair of shoes, you can it in different ways to include in their fashionable images, wearing socks, and not only in the tone of the shoe, but also contrasting combinations.
Mary Katrantzou, Ryan Lo
Trendy sandals 2017
The most urgent summer shoes - sandals. In the 2017 season the designers have chosen for their different heights and heel width. It should be noted that many models of sandals have become owners of not only leather weave, but also tape. Baby for models with satin ribbons in a collection Atsushi Nakashima, Au Jour Le Jour, Byblos Milano Fausto Puglisi, Blumarine, Dries Van Noten, Fausto Puglisi and many others.
If your favorite model - gladiators , the designers presented their warlike enough, in the collection of Philipp Plein or Fay you're sure to find similar models. Sandals Wedge also be mentioned among the popular models of the new season.
Nakashima Atsushi, of Au Jour Le Jour
Chloe, by David Koma
Diesel Black Gold, of Fay
Genny, Isabel Marant
Miu Miu, of Fay
Fashionable women's shoes flat shoes
The most desired summer shoes - it's sandals and slippers. However, this is not all. For cooler weather do not forget Laufer can, and moccasins, for the warm - sleepers, and for hot - the best option may be open sandals, flip-flops and today highly relevant Grandma.
Most likely, the latter is also expected to a great future. Bright and colorful oriental clothes and demands the same shoes. Many designers have taken a great interest the luxury and colors of the East, but because Grandma with this outfit you have to be on their feet.
Studios acne, Antonio Marras
Diesel Black Gold, Dolce & Gabbana
of Fay, Giamba
Acne Studios, of Lanvin
Men's style continues to be among the leading in 2017. The most successful model in this style, in the opinion of Mylitta, can be found in the collections of Fay, Phillip Lim, MSGM, Tods.
Shoes Spring-Summer 2017 - Materials
Summer shoes feature diverse materials. This skin - matt and patent, suede, velvet, jersey, fur, satin, silk, cotton, plastic, neoprene, rope materials, metallic and even rubber shlopki. Various kinds of leather finishes. Relevant and diversified one combination of materials.
Givenchy, Aquilano Rimondi
by Elie of Saab, Erdem
Francesco Scognamiglio, of Prada
Tory Burch, of Emilio Pucci
Giamba, of Dennis Basso The
Prints and palette shoes 2017
Palette in the shoe is not limited, as in the upcoming season - spring, summer, brightness and saturation of the colors will be highly relevant. Delicate pastel unusual tones of mint, lavender, blue, pale pink in summer blends well in any way - and a bright short sundress and with more aggressive elements of clothing.
Bright vivid neon colors, metallic sheen, iridescent different shades, also part of the main trends of footwear. Many interesting models can be found at the Laura Biagiotti, Kenzo, Trussardi, Masha Ma and many other designers.
Richmond john, Laura Biagiotti
to Masha Ma, Trussardi
Bright flowers as prints and decor are popular not only in clothing, but also footwear. The same can be said of the strip. Leopard and snake prints have their place in the decoration of women's shoes. Reptile skin is present in the collections of Balmain, Erdem, Tod's. Here not only the natural shades of the family of reptiles, but also unusual coloring.
31 Lim Phillip, Daizy Shely
Giamba, Carven
Palette and bright print. Looks gorgeous multicolored patterns, especially among their noble look two-tone shoes and sandals.
Olympia charlotte, the John Richmond
Tory Burch, by Elie of Saab
Decor women's shoes spring-summer 2017
Decor, as always, designers are paying a lot of attention, and perhaps this is the most interesting part in the creation of shoes. It completes the decor often the most fantastic ideas of designers. In the season of spring-summer 2017 collections in many shoe makers have decided to do weave straps, satin ribbons, which are sometimes raised above the ankle or entangle it in several layers. And Marco de Vincenzo so carried away by ribbons that adorned the belt weaves boots.
Shoes with solid heels and platforms, with metal chains and rivets. Lacing occupy any part of the shoe. Thin braids, weaving, multicolored tassels, lace frills - all these elements compete with aggressive metal and at the same time create an image of feminine and rather brash.
Blugirl, by Dries Van Noten
of Fay, of Gucci
Antonio Marras, Etro
If the family budget excludes the possibility of buying new shoes, do not enter because of the depressed or in conflict with loved ones, especially if in the wardrobe there is enough new shoes from last season, maybe even more than one pair.
Try to present it in a new way. How to do it?
Wear it different socks, attach a bright bow, flower of bright fabrics, laces and change to a bright tone, or any items of clothing, tie the laces around the ankle. The same can be done with a satin ribbon laces or ribbons to attach the brush, which are now in the trend.
You can choose to put on shoes and ankle beautiful metal bracelet. Look at a lot of options in the collections of the new season, and you make sure that your design ideas, too, will be able to take its rightful place in your wardrobe.
Gucci, Holland House is of
Saint of Laurent, by Ryan Lo
Designers sometimes combine more and incongruous, but it does not mean that you have to completely repeat everything seen on the catwalk. For example, Fausto Puglisi became interested in the crosses as jewelry and prints, and Dolce & Gabbana continue to put the holy images on items of clothing, but Mylitta does not advise to buy such things. Everyone has freedom of choice, but there is a law about the feelings of believers, who should not cross, even if you are a cool religion.
Fashion 2017 photo in women's clothing spring-summer guipure dresses
Incredibly elegant look on the female figure dress of guipure and lace, which in 2017 literally capture the minds and thoughts of modern fashionistas. they have full reign on fashion catwalks and are preparing for a massive invasion of the city streets. Lace is so impressive that such a garment does not require bright jewelry or any additions. We are accustomed to observe similar outfits on fashion runways, but not every woman will dare to come out in the semi-transparent lace on the streets. The fact that many associate with lace underwear. Today, designers are trying to break that stereotype and offer a completely everyday wardrobe options openwork elements.
Choosing a model dresses of lace fabric and learn to wear it.
Trendy lace and guipure dresses for 2017 include clothing designers not only as an evening option. They can be adapted to everyday, and even business style. Dresses of the sem lace formed in a conventional black and white may be used as an outfit for everyday office. This ingenious solution that combines strict lines and elegance of expensive material.
Look at the photo evening fashions and casual clothing patterns similar types of guipure and lace:
Fashion lace dresses for 2017 - evening and daily (with photos)
legislators are actively used lace fabric fashion is not the first season. Fashion lace dress in 2017 - a variety of models, interesting colors and unusual combinations of style. Many designers have relied on retro style. Lela Rose and Giorgio Armani offers a charming form-fitting model with flared skirts in the style of the 50s in calm tones - creamy, powdery, pale olive. Gucci and Giamba pleased mini dress in 60s style - straight and slightly flared stubby model is recommended to wear tights with fishnet or lace-up sandals. Look at the photo and evening everyday styles:
In Reem Acra, Alberta Ferretti and Luisa Beccaria can see evening dresses with sleeves "Juliet" for the sake of fashion of the Victorian era. Chic design of each item to make it a luxurious decoration of the wardrobe of any fashionista. Neovintazh style is particularly popular among real connoisseurs of trend trends. Evening Lace Dresses can be more modern, such as in Diane von Furstenberg and Babyghost.
This red and black products on the floor a simple cut with high slits.
At Altuzarra, we are seeing a tempting white shift dress with stand-up collar, a deep cut-droplet on the chest and frank cut at the hip, and Monique Lhuillier offers a black shift dress with dropped shoulder line, which is ideal for girls with a figure of "pear". Similar models also have Erdem, only with long sleeves and a bright red color. Paul & Joe and Stella McCartney decided to use the lace as a material for decorative inserts, while Salvatore Ferragamo is possible to observe a rather narrow model midi black lace with a hint of sporty style - with colorful knitted cuffs.
Many other designers have used a non-standard approach to the use of lace, making it part of a casual style. Now the clothes of lace, which this year has become more rough, you can even wear with sports shoes, not to mention the shoes. One of the trends can be called the case a transparent lace products from fabric with lace contrasting color. For example, cream or red openwork fabric looks great on a black carrying case, and vice versa.
Often lace is used with perforated fabrics as part of everyday images.
Stylish and fashionable dresses Guipure 2017 - black, white, unusual
Guipure has incredible aesthetic characteristics, it instantly makes any image of feminine and charming. Stylish and fashionable guipure dresses for 2017 - it's not only the evening options, but also a model for the office, walks, visits or a party. Model on the floor can be a luxurious outfit for a hike in the expensive restaurant, and practical summer sundresses for every day.
Lace outfit always brings notes of temptation, so stylish guipure dresses do not have deep neckline or cuts too outspoken. If you want to show a slim figure and tan, choose a model with an open back - no one will call your look vulgar.
Elegant black and white, unusual color scheme of options you can see in the photo below:
Guipure dress is not accepted complement brooches, necklaces and massive. If the low neck deep enough, you can wear a modest pendant on a short chain. Often of guipure sew tight things - in this case, an openwork pattern perfectly visible. But short skirts sun or polusolntse also look harmonious and elegant.
Black dress on a case-tight cover in tone can be safely used as a dress for the office. Let this be the most closed model wearing such a thing to work best with a concise boat and neat short jacket. Bride in a wedding dress often choose white models of guipure which perfectly emphasizes femininity and tenderness celebration character.
This year, designers recommend to wear things from guipure in bold and unusual colors. Amazing look at a young girl mini dresses in retro style in a bright pink, yellow, green. Light blue lace in vintage dresses midi, complemented by white collar "Peter Pan" seems very appropriate. Guipure dress ginger shade can be worn with leather shoes or boots of the same color. For evening look after brown fishnet products, which in combination with golden ornaments look truly luxurious.
Openwork fabric has always captured the hearts of women and their fans, and now with the permission of trendsetters lace can be worn more often. Why not take this chance in 2017?
Fashion 2017 photo in women's clothing spring-summer fashion verdict
In the fashion of total femininity, and the principal symbol of femininity - dress. What dress in trend this spring and how to wear them, says fashion expert Evelina Khromchenko.

Fashion 2017 photo in women's clothing spring-summer video
Do you love the color pink, change if last-skinny jeans to slacks-tube, whether an ox or a frill example? In this video, we selected the most striking trends of the coming spring-summer season. Enjoy watching!
In this video review of the designer collections Spring - Summer 2017 with the definition of the main trends of the season, with examples.